In these dark times…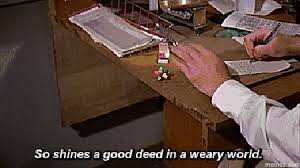 This is a screen grab from the classic Charlie and the Chocolate Factory film from 1971.  It is a classic film that I have loved all my life.  This particular scene has always moved me.  After Charlie's Grandpa Joe says they are going to sell the everlasting gobstopper to a rival of Wonkas, Charlie makes the heartfelt decision to do the right thing.
At that moment, Gene Wilder's Willie Wonka speaks that line.  I looked it up, its based on a line written by Shakespeare (because of course it was) and appears in his play "the merchant of Venice'.
It is a reminder to make the right choices, to do the right thing.  As a father, I want to always try to set the best example for our little guy.  I want to do those good deeds.  It is so hard sometimes when it seems that poor behavior is rewarded, when sloth and lack of effort is glossed over.
Be a light, make a difference in someone's day.  Let your good deed shine in this weary world.